CSP (CONCENTRATED SOLAR POWER) AND CPV (CONCENTRATED PHOTOVOLTAIC) TECHNOLOGIES
At Rioglass Solar, we provide our products to a wide range of customers for different energy operations around the globe. Our state-of-the-art optical components are in use by all important players in the CSP (Concentrated Solar Power) and leading companies in the CPV (Concentrated Photovoltaic) markets.
Worldwide Trust
Our tempered mirrors and receiver tubes are trusted by the industry's most significant players, including:
• Energy companies and Industry Asset Owners
• Engineering companies
• EPC (efficient power conversion) companies
• Project developers
• O&M companies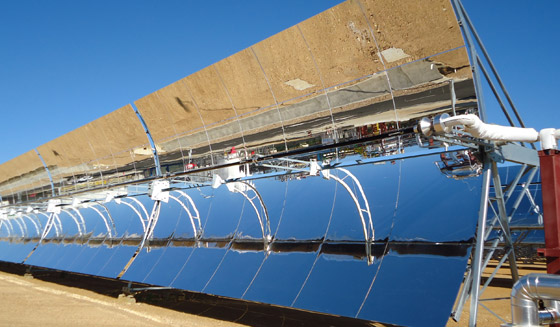 OUR USES
Energy plants can function solely on the energy collected by solar fields, which use different technologies to collect and store solar thermal energy, including photovoltaic (PV) solar. Rioglass Solar builds solar mirrors used to concentrate the solar energy of the PV cells, enabling CPV solar energy.
OUR MIRRORS ARE USED BY THE FOLLOWING CPV AND CSP APPLICATIONS: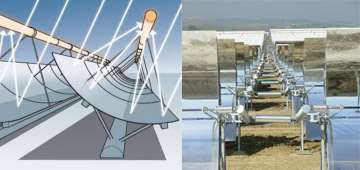 The parabolic trough and Linear Fresnel Reflector (CLFR)
Line concentration technologies used to collect solar thermal energy using mirrors, a receiver tube or absorber, and Heat Transfer Fluid (HTF) to convert the heat into steam.
The steam can be used to supply direct heat in industrial processes, run a turbine, or even power a steam generator.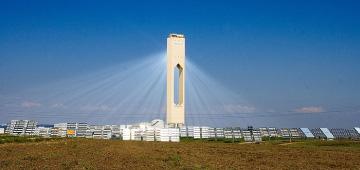 The central tower, or power tower:
A point concentration technology used to collect solar thermal energy by using an array of mirrors to focus the sun's rays to heat a furnace on top of the tower.
These rays could be focused to heat water and produce steam to power a turbine.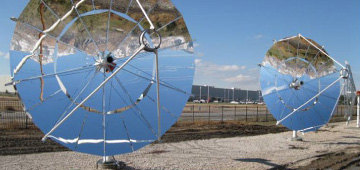 Dish technology:
A point concentration technology used in both CPV and CSP systems.
A dish Stirling system, or parabolic dish, is often made of different mirror segments, which focus sunlight onto a circular target above the dish and in front of the Stirling or steam engine, which converts the heat into kinetic energy and then electricity.